Dainese Size Charts
Choosing the right size is important, here's our comprehensive guide.
We stock one of the largest selection of sizes across our Dainese range. However, different manufacturers use different codes (and different tape measures it seems!).

So our guide to a successful fit is:
We also offer a fully
made to measure, alteration
and
customisation
service.
If you require guides for other products, you can find our
comprehensive size charts here
.
---
Fitting and Measuring Guide
Find the right size for your Dainese gear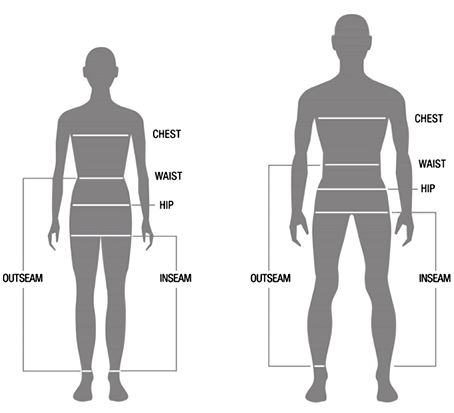 Arm
Chest
Measure around the broadest part for your chest, place the tape measure loosely under your arms and make sure it feels comfortable and not too overtight.
Waist
Standing straight, measure around your waist at the height of your 'belly button', making sure the tape measure feels comfortable, not overtight or too loose.
Hip
Measure just above the widest part of your hips and bum, around the top of your hip joints.
Outseam
Motorcycle trousers are designed to sit higher than everyday trousers. Standing straight up, measure from your waist (i.e 'belly button' as above) down to the centre of your ankle.
Inseam
Measure from the lowest point between your legs to the centre of your ankle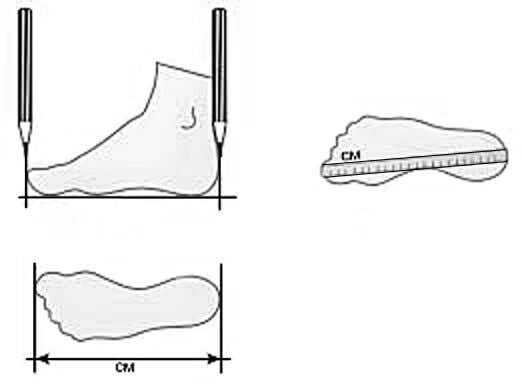 How to Measure Boots
It's easy to find the right shoe size, just place both feet (in your normal riding socks) on a piece of paper and carefully draw the outline of each foot. Make sure you keep the pen pointing straight down to get a true outline! Then measure the lengths of both outlines from the top edge of your big toes to the back edge of your heel.
If your two feet measure differently, take the longer of the two measurements and that's your size - all measurements in centimetres (cm).
Helpful Hint
Remember to wear your normal riding socks and if you ride around the year you might want to make a bit of allowance for thicker winter socks.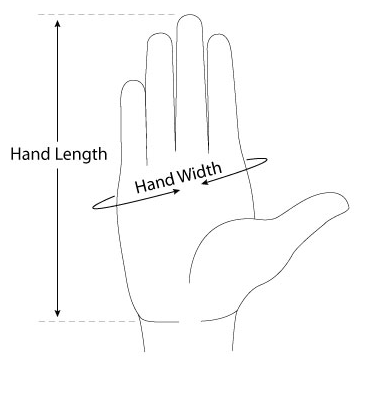 How to Measure
It's easy to find the glove size to fit you. Measure the circumference of your hand in a loop as shown, at the widest part of your palm bringing the tape measure all the way round until it joins back at the beginning.
Sometimes its useful to also measure your hand length. This is from the tip of your longest finger to the line where you hand joins your wrist - as shown.
Helpful Hints
Remember if you are planning to wear under-gloves as well, you may want to go up a size for comfort.
If you fall in-between sizes, choose the larger one.
---
Dainese Size Charts
Find the right size for your dainese gear.
Regular
| | | | | | | | | | | | | | |
| --- | --- | --- | --- | --- | --- | --- | --- | --- | --- | --- | --- | --- | --- |
| UK Size | 32 | 34 | 36 | 38 | 40 | 42 | 44 | 46 | 48 | 50 | 52 | 54 | 56 |
| EU Size | 42 | 44 | 46 | 48 | 50 | 52 | 54 | 56 | 58 | 60 | 62 | 64 | 66 |
| S/M/L | XS | S | S | M | M | L | L | XL | XL | 2XL | 3XL | 4XL | |
| Arm (cm) | 55-56 | 56-57 | 57-58 | 58-59 | 59-60 | 60-61 | 61-62 | 62-63 | 62-63 | 63-64 | 63-64 | 64-65 | |
| Chest (cm) | 82-86 | 86-90 | 90-94 | 94-98 | 98-102 | 102-106 | 106-110 | 110-114 | 114-118 | 118-122 | 122-126 | 126-130 | |
| Waist (cm) | 70-74 | 74-78 | 78-82 | 82-86 | 86-90 | 90-94 | 94-98 | 98-102 | 102-106 | 106-110 | 110-114 | 114-118 | |
| Hips (cm) | 84-88 | 88-92 | 92-96 | 96-100 | 100-104 | 104-108 | 108-112 | 112-116 | 116-120 | 120-124 | 124-128 | 128-132 | |
| Leg (cm) | 76-77 | 77-79 | 79-80 | 80-82 | 82-83 | 83-84 | 84-85 | 85-86 | 86-87 | 87-88 | 87-88 | 88-89 | |
| Height (cm) | 163-166 | 166-169 | 169-172 | 172-175 | 175-178 | 178-181 | 181-184 | 184-187 | 187-188 | 188-189 | 189-190 | 190-191 | |
Short
| | | | | | | | | | | | | | |
| --- | --- | --- | --- | --- | --- | --- | --- | --- | --- | --- | --- | --- | --- |
| UK Size | 32 | 34 | 36 | 38 | 40 | 42 | 44 | 46 | 48 | 50 | 52 | 54 | 56 |
| EU Size | 42 | 44 | 46 | 48 | 50 | 52 | 54 | 56 | 58 | 60 | 62 | 64 | 66 |
| S/M/L | | | S | M | M | L | L | XL | XL | 2XL | | | |
| Arm (cm) | | | 51-53 | 53-55 | 55-57 | 57-58 | 58-59 | 59-60 | 60-61 | 60-61 | | | |
| Chest (cm) | | | 83-89 | 89-95 | 95-101 | 101-107 | 107-113 | 113-119 | 119-125 | 125-131 | | | |
| Waist (cm) | | | 73-79 | 79-85 | 85-91 | 91-97 | 97-103 | 103-109 | 109-115 | 115-121 | | | |
| Hips (cm) | | | 85-91 | 91-97 | 97-103 | 103-109 | 109-115 | 115-121 | 121-127 | 127-133 | | | |
| Leg (cm) | | | 71-73 | 73-75 | 75-77 | 77-79 | 79-81 | 81-82 | 81-82 | 81-82 | | | |
| Height (cm) | | | 156-161 | 161-165 | 165-170 | 170-174 | 174-178 | 178-180 | 180-181 | 181-183 | | | |
Long
| | | | | | | | | | | | | | |
| --- | --- | --- | --- | --- | --- | --- | --- | --- | --- | --- | --- | --- | --- |
| UK Size | 32 | 34 | 36 | 38 | 40 | 42 | 44 | 46 | 48 | 50 | 52 | 54 | 56 |
| EU Size | 42 | 44 | 46 | 48 | 50 | 52 | 54 | 56 | 58 | 60 | 62 | 64 | 66 |
| S/M/L | | S | S | | M | L | | XL | XL | | 3XL | 4XL | |
| Arm (cm) | | 57-59 | 59-61 | | 61-63 | 63-64 | | 64-65 | 65-66 | | 66-67 | 66-67 | |
| Chest (cm) | | 83-89 | 89-95 | | 95-101 | 101-107 | | 107-113 | 113-119 | | 119-125 | 125-131 | |
| Waist (cm) | | 70-76 | 76-82 | | 82-88 | 88-95 | | 94-100 | 100-106 | | 106-112 | 112-118 | |
| Hips (cm) | | 85-91 | 91-97 | | 97-103 | 103-109 | | 109-115 | 115-121 | | 121-127 | 127-133 | |
| Leg (cm) | | 81-83 | 83-85 | | 85-87 | 87-89 | | 89-91 | 91-92 | | 91-92 | 91-92 | |
| Height (cm) | | 172-177 | 177-181 | | 181-186 | 186-190 | | 190-194 | 194-196 | | 196-197 | 196-197 | |
| | | | | | | | | | | | | | |
| --- | --- | --- | --- | --- | --- | --- | --- | --- | --- | --- | --- | --- | --- |
| UK Size | 32 | 34 | 36 | 38 | 40 | 42 | 44 | 46 | 48 | 50 | 52 | 54 | 56 |
| EU Size | 42 | 44 | 46 | 48 | 50 | 52 | 54 | 56 | 58 | 60 | 62 | 64 | 66 |
| S/M/L | XS | S | S | M | M | L | L | XL | XL | 2XL | 3XL | 4XL | |
| Chest (cm) | 82-86 | 86-90 | 90-94 | 94-98 | 98-102 | 102-106 | 106-110 | 110-114 | 114-118 | 118-122 | 122-126 | 126-130 | |
| Waist (cm) | 70-74 | 74-78 | 78-82 | 82-86 | 86-90 | 90-94 | 94-98 | 98-102 | 102-106 | 106-110 | 110-114 | 114-118 | |
| Arm (cm) | 55-56 | 56-57 | 57-58 | 58-59 | 59-60 | 60-61 | 61-62 | 62-63 | 62-63 | 63-64 | 63-64 | 64-65 | |
Regular
| | | | | | | | | | | | | | |
| --- | --- | --- | --- | --- | --- | --- | --- | --- | --- | --- | --- | --- | --- |
| UK Size | 24 | 26 | 28 | 30 | 32 | 34 | 36 | 38 | 40 | 42 | 44 | 46 | 48 |
| EU Size | 40 | 42 | 44 | 46 | 48 | 50 | 52 | 54 | 56 | 58 | 60 | 62 | 64 |
| IT Size | 42 | 44 | 46 | 48 | 50 | 52 | 54 | 56 | 58 | 60 | 62 | 64 | 66 |
| S/M/L | XS | S | S | M | M | L | L | XL | XL | 2XL | 3XL | 4XL | |
| Waist (cm) | 70-74 | 74-78 | 78-82 | 82-86 | 86-90 | 90-94 | 94-98 | 98-102 | 102-106 | 106-110 | 110-114 | 114-118 | |
| Leg (cm) | 76-77 | 77-79 | 79-80 | 80-82 | 82-83 | 83-84 | 84-85 | 85-86 | 86-87 | 87-88 | 87-88 | 88-89 | |
| Hips (cm) | 84-88 | 88-92 | 92-96 | 96-100 | 100-104 | 104-108 | 108-112 | 112-116 | 116-120 | 120-124 | 124-128 | 128-132 | |
Short
| | | | | | | | | | | | | | |
| --- | --- | --- | --- | --- | --- | --- | --- | --- | --- | --- | --- | --- | --- |
| UK Size | 24 | 26 | 28 | 30 | 32 | 34 | 36 | 38 | 40 | 42 | 44 | 46 | 48 |
| EU Size | 40 | 42 | 44 | 46 | 48 | 50 | 52 | 54 | 56 | 58 | 60 | 62 | 64 |
| IT Size | 42 | 44 | 46 | 48 | 50 | 52 | 54 | 56 | 58 | 60 | 62 | 64 | 66 |
| Dainese Size | 23 | 23 | 24 | 25 | 25 | 26 | 27 | 27 | 28 | 29 | 29 | 30 | |
| S/M/L | XS | S | S | M | M | L | L | XL | XL | 2XL | 3XL | 4XL | |
| Waist (cm) | 73-79 | 73-79 | 79-85 | 85-91 | 85-91 | 91-97 | 97-103 | 98-103 | 103-109 | 109-115 | 110-115 | 115-121 | |
| Leg (cm) | 71-73 | 71-73 | 73-75 | 75-77 | 75-77 | 77-79 | 79-81 | 80-81 | 81-82 | 81-82 | 82-82 | 81-82 | |
| Hips (cm) | 85-91 | 85-91 | 91-97 | 97-103 | 97-103 | 103-109 | 109-115 | 110-115 | 115-121 | 121-127 | 122-127 | 127-133 | |
Long
| | | | | | | | | | | | | | |
| --- | --- | --- | --- | --- | --- | --- | --- | --- | --- | --- | --- | --- | --- |
| UK Size | 24 | 26 | 28 | 30 | 32 | 34 | 36 | 38 | 40 | 42 | 44 | 46 | 48 |
| EU Size | 40 | 42 | 44 | 46 | 48 | 50 | 52 | 54 | 56 | 58 | 60 | 62 | 64 |
| IT Size | 42 | 44 | 46 | 48 | 50 | 52 | 54 | 56 | 58 | 60 | 62 | 64 | 66 |
| Dainese Size | 86 | 86 | 92 | 98 | 98 | 104 | 110 | 110 | 116 | 122 | 122 | 128 | |
| S/M/L | XS | S | S | M | M | L | L | XL | XL | 2XL | 3XL | 4XL | |
| Waist (cm) | 70-76 | 70-76 | 76-82 | 82-88 | 82-88 | 88-94 | 94-100 | 94-100 | 100-106 | 106-112 | 106-112 | 112-118 | |
| Leg (cm) | 81-83 | 81-83 | 83-85 | 85-87 | 85-87 | 87-89 | 89-91 | 89-91 | 91-92 | 91-92 | 91-92 | 91-92 | |
| Hips (cm) | 85-91 | 85-91 | 91-97 | 97-103 | 97-103 | 103-109 | 109-115 | 109-115 | 115-121 | 121-127 | 121-127 | 127-133 | |
| | | | | | | | | | | | |
| --- | --- | --- | --- | --- | --- | --- | --- | --- | --- | --- | --- |
| UK Size | 5 | 5.5 | 6 | 7 | 8 | 9 | 10 | 10.5 | 11 | 12 | 13 |
| EU Size | 38 | 39 | 40 | 41 | 42 | 43 | 44 | 45 | 46 | 47 | 48 |
| Foot Length (cm) | 25 | 25.5 | 26.5 | 27 | 27.5 | 28 | 28.5 | 29 | 30 | 30.5 | 31 |
| | | | | | | | | | | | | | | | | | |
| --- | --- | --- | --- | --- | --- | --- | --- | --- | --- | --- | --- | --- | --- | --- | --- | --- | --- |
| UK Size | 6 | 6.5 | 7 | 7.5 | 8 | 8.5 | 9 | 9.5 | 10 | 10.5 | 11 | 11.5 | 12 | 12.5 | 13 | 13.5 | 14 |
| S/M/L | | | | XS | S | M | L | XL | 2XL | 3XL | | | | | | | |
| Circumference (cm) | | | | 19.1 | 20.3 | 21.6 | 22.9 | 24.1 | 25.4 | 26.7 | | | | | | | |
| | | | | | | | | | | | | |
| --- | --- | --- | --- | --- | --- | --- | --- | --- | --- | --- | --- | --- |
| UK Size | 32 | 34 | 36 | 38 | 40 | 42 | 44 | 46 | 48 | 50 | 52 | 54 |
| EU Size | 42 | 44 | 46 | 48 | 50 | 52 | 54 | 56 | 58 | 60 | 62 | 64 |
| S/M/L | XS | S | S | M | M | L | L | XL | XL | 2XL | 3XL | 4XL |
| Neck (cm) | 35.5-36.5 | 36.5-37.5 | 37.5-38.5 | 38.5-39.5 | 39.5-40.5 | 40.5-41.5 | 41.5-42.5 | 42.5-43.5 | 43.5-44.5 | 44.5-45.5 | 45.5-46.5 | 46.5-47.5 |
| Chest (cm) | 82-86 | 86-90 | 90-94 | 94-98 | 98-102 | 102-106 | 106-110 | 110-114 | 114-118 | 118-122 | 122-126 | 126-130 |
| | | | | | | | | | | | |
| --- | --- | --- | --- | --- | --- | --- | --- | --- | --- | --- | --- |
| UK Size | 26 | 28 | 30 | 32 | 34 | 36 | 38 | 40 | 42 | 44 | 46 |
| EU Size | 42 | 44 | 46 | 48 | 50 | 52 | 54 | 56 | 58 | 60 | 62 |
| Inches | 26" | 27" | 28" | 29" | 30" | 31" | 32" | 33" | 34" | 35" | 36" | 37" | 38" | 39" | 40" | 41" | 42" | 43" | 44" | |
| Waist (cm) | 74-76 | 79-82 | 84-87 | 89-92 | 94-97 | 100-102 | 105-107 | 110-112 | 115-117 | 120 | |
| Leg (cm) | | | | | | | | | | | |
| | | | | | | | | | |
| --- | --- | --- | --- | --- | --- | --- | --- | --- | --- |
| UK Size | 4 | 6 | 8 | 10 | 12 | 14 | 16 | 18 | 20 |
| EU Size | 38 | 40 | 42 | 44 | 46 | 48 | 50 | 52 | 54 |
| S/M/L | 2XS | XS | S | M | M | L | XL | XL | 2XL |
| Arm (cm) | 51-52 | 52-54 | 54-55 | 55-57 | 57-58 | 58-59 | 59-60 | 60-61 | 60-61 |
| Chest (cm) | 72-76 | 76-80 | 80-84 | 84-88 | 88-92 | 92-96 | 96-100 | 100-104 | 104-108 |
| Waist (cm) | 56-60 | 60-64 | 64-68 | 68-72 | 72-76 | 76-80 | 80-84 | 84-88 | 88-92 |
| Hips (cm) | 82-86 | 86-90 | 90-94 | 94-98 | 98-102 | 102-106 | 106-110 | 110-114 | 114-118 |
| Leg (cm) | 73-75 | 75-76 | 76-78 | 78-79 | 79-80 | 80-81 | 81-82 | 81-82 | 81-82 |
| Height (cm) | 157-160 | 160-163 | 163-166 | 166-169 | 169-172 | 172-175 | 175-177 | 177-178 | 178-179 |
| | | | | | | | | | | |
| --- | --- | --- | --- | --- | --- | --- | --- | --- | --- | --- |
| UK Size | 4 | 6 | 8 | 10 | 12 | 14 | 16 | 18 | 20 | 22 |
| EU Size | 32 | 34 | 36 | 38 | 40 | 42 | 44 | 46 | 48 | 50 |
| S/M/L | 2XS | XS | S | M | M | L | XL | XL | 2XL | |
| Chest (cm) | 72-76 | 76-80 | 80-84 | 84-88 | 88-92 | 92-96 | 96-100 | 100-104 | 104-108 | |
| Waist (cm) | 56-60 | 60-64 | 64-68 | 68-72 | 72-76 | 76-80 | 80-84 | 84-88 | 88-92 | |
| Arm (cm) | 51-52 | 52-54 | 54-55 | 55-57 | 57-58 | 58-59 | 59-60 | 60-61 | 60-61 | |
Regular
| | | | | | | | | | | | |
| --- | --- | --- | --- | --- | --- | --- | --- | --- | --- | --- | --- |
| UK Size | 2 | 4 | 6 | 8 | 10 | 12 | 14 | 16 | 18 | 20 | 22 |
| EU Size | 30 | 32 | 34 | 36 | 38 | 40 | 42 | 44 | 46 | 48 | 50 |
| IT Size | 36 | 38 | 40 | 42 | 44 | 46 | 48 | 50 | 52 | 54 | 56 |
| S/M/L | | XXS | XS | S | M | M | L | XL | XL | 2XL | |
| Waist (cm) | | 56-60 | 60-64 | 64-68 | 68-72 | 72-76 | 76-80 | 80-84 | 84-88 | 88-92 | |
| Leg (cm) | | 73-75 | 75-76 | 76-78 | 78-79 | 79-80 | 80-81 | 81-82 | 81-82 | 81-82 | |
| Hips (cm) | | 82-86 | 86-90 | 90-94 | 94-98 | 98-102 | 102-106 | 106-110 | 110-114 | 114-118 | |
Short
| | | | | | | | | | | | |
| --- | --- | --- | --- | --- | --- | --- | --- | --- | --- | --- | --- |
| UK Size | 2 | 4 | 6 | 8 | 10 | 12 | 14 | 16 | 18 | 20 | 22 |
| EU Size | 30 | 32 | 34 | 36 | 38 | 40 | 42 | 44 | 46 | 48 | 50 |
| IT Size | 36 | 38 | 40 | 42 | 44 | 46 | 48 | 50 | 52 | 54 | 56 |
| Dainese Size | | | 21 | 21 | 22 | 23 | 23 | 24 | 25 | 25 | 26 |
| S/M/L | | | XS | S | M | M | L | XL | XL | 2XL | 3XL |
| Waist (cm) | | | 64-68 | 64-68 | 70-74 | 76-80 | 76-80 | 82-86 | 88-92 | 88-92 | 94-98 |
| Leg (cm) | | | 70.5-72 | 70.5-72 | 73-74 | 74.5-75.5 | 74.5-75.5 | 76-77 | 76-77 | 76-77 | 76-77 |
| Hips (cm) | | | 88-92 | 88-92 | 94-98 | 100-104 | 100-104 | 106-110 | 112-116 | 112-116 | 118-122 |
Long
| | | | | | | | | | | | |
| --- | --- | --- | --- | --- | --- | --- | --- | --- | --- | --- | --- |
| UK Size | 2 | 4 | 6 | 8 | 10 | 12 | 14 | 16 | 18 | 20 | 22 |
| EU Size | 30 | 32 | 34 | 36 | 38 | 40 | 42 | 44 | 46 | 48 | 50 |
| IT Size | 36 | 38 | 40 | 42 | 44 | 46 | 48 | 50 | 52 | 54 | 56 |
| Dainese Size | | | 82 | 82 | 88 | 94 | 94 | 100 | 106 | 106 | 112 |
| S/M/L | | | XS | S | M | M | L | XL | XL | 2XL | 3XL |
| Waist (cm) | | | 62-66 | 62-66 | 68-72 | 74-78 | 74-78 | 80-84 | 86-90 | 86-90 | 92-96 |
| Leg (cm) | | | 80.5-82 | 80.5-82 | 83-84 | 84.5-85.5 | 84.5-85.5 | 86-87 | 86-87 | 86-87 | 86-87 |
| Hips (cm) | | | 88-92 | 88-92 | 94-98 | 100-104 | 100-104 | 106-110 | 112-116 | 112-116 | 118-122 |
| | | | | | | | |
| --- | --- | --- | --- | --- | --- | --- | --- |
| UK Size | 3.5 | 4 | 5 | 6 | 7 | 7.5 | 8 |
| EU Size | 36 | 37 | 38 | 39 | 40 | 41 | 42 |
| Foot Length (cm) | 24 | 24.5 | 25 | 25.5 | 26 | 26.5 | 27 |
| | | | | | | | | | | | | | | | | | |
| --- | --- | --- | --- | --- | --- | --- | --- | --- | --- | --- | --- | --- | --- | --- | --- | --- | --- |
| UK Size | 6 | 6.5 | 7 | 7.5 | 8 | 8.5 | 9 | 9.5 | 10 | 10.5 | 11 | 11.5 | 12 | 12.5 | 13 | 13.5 | 14 |
| S/M/L | | | | XS | S | M | L | XL | 2XL | 3XL | | | | | | | |
| Circumference (cm) | | | | 19.1 | 20.3 | 21.6 | 22.9 | 24.1 | 25.4 | 26.7 | | | | | | | |
| | | | | | | | | | |
| --- | --- | --- | --- | --- | --- | --- | --- | --- | --- |
| UK Size | 4 | 6 | 8 | 10 | 12 | 14 | 16 | 18 | 20 |
| EU Size | 32 | 34 | 36 | 38 | 40 | 42 | 44 | 46 | 48 |
| S/M/L | 2XS | XS | S | M | M | L | XL | XL | 2XL |
| Chest (cm) | 72-76 | 76-80 | 80-84 | 84-88 | 88-92 | 92-96 | 96-100 | 100-104 | 104-108 |
| Waist (cm) | 56-60 | 60-64 | 64-68 | 68-72 | 72-76 | 76-80 | 80-84 | 84-88 | 88-92 |
UK Size
8
10
12
14
16
18
20
22
24
EU Size
36
38
40
42
44
46
48
50
52
Inches
24" | 25"
26" | 27"
28" | 29"
30" | 31"
32" | 33"
34" | 35"
36"
Waist (cm)
70-72
74-76
79-82
84-87
89-92
94-97
100
Leg (cm)