Daytona Motorcycle Clothing
Daytona are a German boot brand who are known world wide for producing high quality boots that are handcrafted in Germany. They only use the highest quality materials with innovative technology to allow for a very comfortable feel on and off the bike that is complimented by a huge variety of safety features as they understand how important it is to protect a vital area such as the foot and lower leg. They have a wide range of products, sports boots, touring boots, inner shell boots and more - most with and without Gore Tex so that it can accommodate to your needs dependant on whether you're in a wet enviroment or not.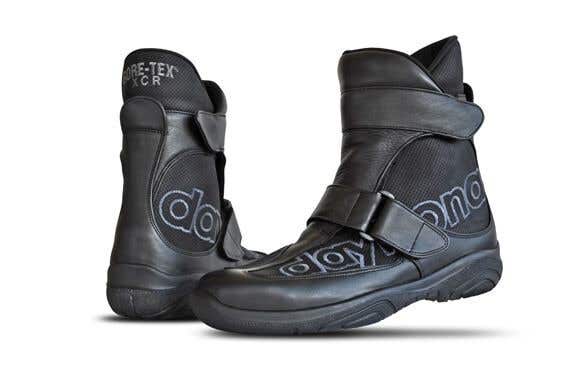 Daytona Boots
Daytona boots are high quality handrafted German boots. They are well made, protective and comfortable and can fulfil a variety of riders needs in several versions.
Daytona Boots
LOOK AND FEEL YOUR BEST WITH DAYTONA MOTORYCLE CLOTHING
Daytona are a well established German motorcycle clothing/boot brand, best known world-wide for their ranges of high quality, hand crafted motorcycle boots. Using only the best quality materials combined with innovative technology, Daytona craft motorcycle boots that are not only comfortable, but durable.
If you're looking for a new pair of motorcycle boots that will have you feeling safe and comfortable on your motorcycle, you're in the right place.
Safety and style
Daytona motorcycle boots are bound to be recognised in your biking community due to their sleek appearance and iconic branding. However, they're more than just good looking. These motorcycle boots have various safety features integrated into the boot. Daytona know the importance of providing vital protection for the foot and leg.
Made to accommodate your needs
Daytona are a brand for ever rider. Whether you're a novice or experienced, push your limits or casually cruise, you'll be able to find a pair of Daytona motorcycle boots that meet your needs. Top featured of Daytona motorcycle boots include:
All their boots are Gore Tex which means:
Breathability – 100% breathable
Waterproof – 100% and guaranteed waterproof, so you can enjoy your ride whatever the weather
Since Daytona offer such a wide variety of features, you can easily find a boot that complements you and your chosen riding style.
Plus they offer wide feet and heel-riser options. And they are one of the only boots that can be fully re-soled on their production line to make them as close to "new" as possible.
Statement collections
If you're a fan of Daytona, then you'll know they offer a great selection of styles. As leading stockists of Daytona gear, you can discover some of the coolest designs at Bike Stop. Choose from the sleek Roadstar boot, the tough Travel Star boot, flattering Ladystar boots or the more sports Strive boot. We are also more than open to special orders for their top of the line "Evo" boots.
For further information on Daytona, feel free to get in touch with a member of the Bike Stop team. You can either call us on 01438 317038 or chat to us on our online chat option.