Family. Fresh. Local.
Saturday: 9.30am to 4.30pm | Sunday: 10.00am to 1.00pm
Due to COVID-19 our cafe hours are currently restricted.
We hope to re-open the cafe as soon as it is viable to do so. Thank you to everyone who has reached out with kind words of support during these uncertain times.
We offer coffee, both hot and cold, teas and other grown up soft drinks. We also have a range of fresh, locally prepared sandwiches, paninis, wraps, salads and a selection of naughty sweets.
---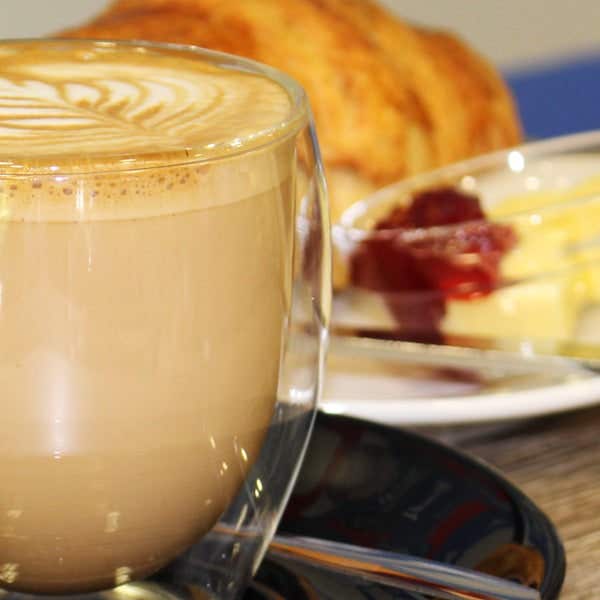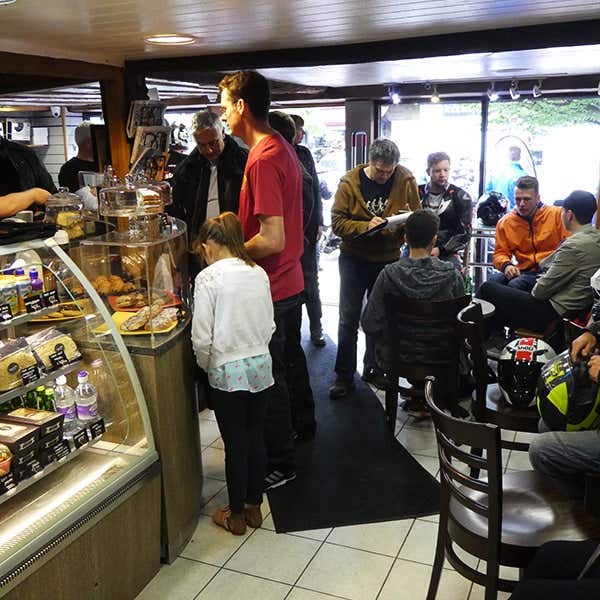 ---
Our Menu
| | | |
| --- | --- | --- |
| Latte | Double shot of Lavazza expresso coffee plus hot steamed milk to make a longer drink but with less froth than a Capuccino. (Also available with flavoured syrups). | £2.80 |
| Flat White | Coffee drink for that stronger coffee flavour (but not too much caffeine) plus "textured" steamed hot milk to give a surprisingly smooth taste. Served in a beautiful glass tumber for that final touch. | £2.90 |
| Capuccino | Double shot of Lavazza expresso coffee plus classic frothy milk and also available with chocolate powder on the top! | £2.80 |
| Americano | Double shot of Lavazza expresso coffee made longer with hot water | £2.40 |
| Espresso | Single shot of Lavazza coffee - so short and more intense | £1.80 |
| Double Espresso | Double shot of Lavazza coffee - longer but just as intense as the single shot | £2.10 |
| Mocha | Our popular Latte long milky coffee but with chocolate added so like a hot chocolate with caffeine! | £3.00 |
| Traditional Tea | Tradional/breakfast tea served in a traditional tea pot with milk in a small cute urn! | £2.00 |
| Speciality Tea | Various flavours available from mint to fruit and Earl Grey. | £2.25 |
| Hot Chocolate | We have selected Cadbury's chocolate and add hot steamed milk for that extra texture and enjoyment. | £2.80 |
| Over Ice Americano | Double shot of Lavazza expresso coffee made longer with water and ice | £2.50 |
| Over Ice Latte | Double shot of Lavazza expresso coffee plus milk to make a longer drink but with less froth than a Capuccino served over ice. | £2.90 |
| Over Ice Cappuccino | Double shot of Lavazza expresso coffee plus classic frothy milk served over ice and also available with chocolate powder on the top! | £2.90 |
| Over Ice Mocha | Our popular long milky coffee but with chocolate added so like a chocolate with caffeine! | £3.10 |
| Crushed Latte | Double shot of Lavazza expresso coffee plus milk to make a longer drink but with less froth than a Capuccino served with crushed ice. | £3.10 |
| Crushed Vanilla Latte | Double shot of Lavazza expresso coffee, vanilla syrup plus milk to make a longer drink but with less froth than a Capuccino served with crushed ice. | £3.30 |
| Crushed Caramel Latte | Double shot of Lavazza expresso coffee plus caramel syrup and milk to make a longer drink but with less froth than a Capuccino served with crushed ice. | £3.30 |
| Crushed Mocha | Our popular long milky coffee but with chocolate added so like a chocolate and crushed ice with caffeine! | £3.30 |
| Creamy Strawberry Crush | Milk, strawberry syrup and ice all crushed and mixed to make it smooth and enjoyable. | £3.50 |
| Creamy Chocolate Crush | Milk, chocolate syrup and ice all crushed and mixed to make it smooth and enjoyable. | £3.50 |
| Creamy Vanilla Crush | Milk, vanilla syrup and ice all crushed and mixed to make it smooth and enjoyable. | £3.50 |
| Victoria Sponge | Probably our most popular cake: Two layers of sponge cake filled with strawberry jam, topped with vanilla icing. | £2.50 |
| Chocolate Fudge Cake | A rich chocolate cake with chocolate icing in the middle and on the top - rich and satisfying/filling especially for chocolate lovers! | £2.50 |
| Lemon Drizzle Loaf Cake | | £2.00 |
| Granola | | £1.89 |
| Belgian Chocolate Shortbread | | £1.89 |
| Danish Whirl | | £1.89 |
| Cookie | | £1.50 |
| Cinnamon Roll | | £0.89 |
| Coconut Macaroon | | £0.89 |
| Butter Croissant | | £1.85 |
| Brie and Cranberry Panini | Toasted hot panini oozing with filling. | £4.49 |
| Mozzarella, pesto, sun-blushed tomatoes panini | Toasted hot panini oozing with filling | £3.99 |
| Pulled pork, BBQ sauce, coleslaw panini | Toasted hot panini oozing with filling | £4.49 |
| Tuna melt panini | Toasted hot panini oozing with filling | £3.99 |
| Bacon bap | | £3.50 |
| Chicken caesar salad sandwich | | £4.00 |
| Egg and cress sandwich | | £3.50 |