Dainese Motorcycle Gear
BESPOKE MOTORCYCLE GEAR FROM DAINESE
If you're looking for high quality, bespoke motorcycle gear from a brand that is renowned for its innovative collections, Dainese is the right choice for you. Dainese is an extremely popular brand amongst many riders, and is respected for its high-quality motorcycle clothing. Not only is Dainese one of the leading manufacturers of motorcycle gear in the world, but it also sponsors iconic riders such as Guy Martin and Valentino Rossi.
Bike Stop are a leading stockist of Dainese motorcycle gear in the UK, and, as the longest standing official stockist of the brand in this country, we can confidently say that we probably hold the biggest and widest Dainese gear ranges in one store in the UK.
Outstanding technology for ultimate protection
The equipment found in the Dainese collections uses innovative technologies to provide all riders with uncompromising levels of safety and protection. For example, the D-Air range of suits and jackets have airbags fitted within them that will inflate before impact, making them the most protective pieces of gear that are available on the market today. For those on the lookout for something simple yet effective, you'll enjoy our range of Dainese leather and textile gear. This range has armour integrated in it to give you comfortable yet reliable protection.
Dainese also offer body armour that can be bought separately to provide the optimal protection for riders in a more demanding atmosphere.
More than just body armour…
As well as having a fantastic selection of body armour pieces, Dainese also have a wide range of clothing, such as stylish motorcycle jackets, that combine the authentic Italian style with the best safety. Our range of Dainese motorcycle clothing is ideal for riders looking for fashionable clothing pieces that will last them ride after ride.
Discover our entire selection of Dainese motorcycle gear, including the classic collections such as: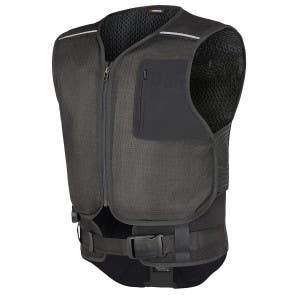 Dainese D-air
This range provides every motorcycle rider with pivotal protection due to its innovative air bag technology. The Dainese D-Air range is now ideal for all riders from track to road and tourers
Dainese D-air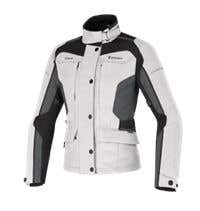 Dainese Ladies' Clothing
Dainese clothing for ladies' is designed to fit the female figure as snugly and comfortably as possible, whilst providing high-quality protection from accidents and weather. Enjoy flattering designs, stylish colours and unfaltering protection with standard armour.
Dainese Ladies' Clothing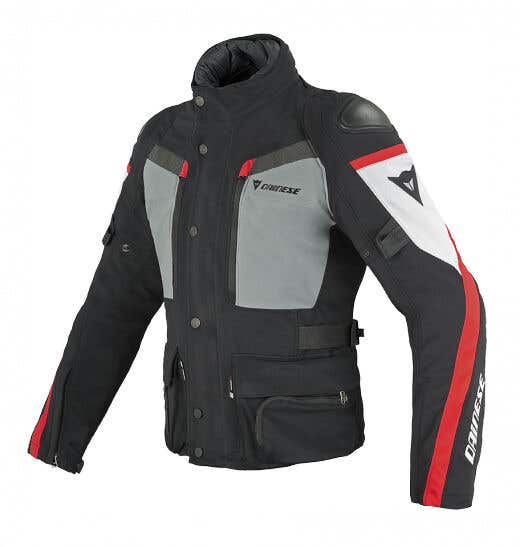 Dainese Jackets
Effortlessly cool and offering the highest quality protection, Dainese jackets are a staple piece of motorcycle gear. Not only are these jackets stylish, but they are also resilient, offering protection for vital areas. The majority can also zip to Dainese trousers for extra safety.
Dainese Jackets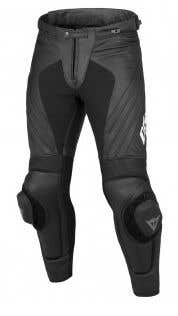 Dainese Trousers
Dainese trousers are a high-quality range of motorcycle clothing, crafted from robust leather or durable textiles for comfortable and fashionable protection. Dainese trousers always come with armour included to give your legs the ultimate protection. And note almost all Dainese trousers zip to Dainese Jackets as the joining zips match. This does not apply to Dainese leather 2 piece zips which only zip to each other.
Dainese Trousers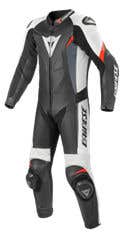 Dainese One Piece Suits
For all in one safety and style, browse Dainese One Piece suits. These suits are made from high-quality cow-hide and Kangaroo leather, making them some of the most sought after suits on the market. Dainese one piece suit range include the innovative air bag technology that keeps riders safe and confident.
Dainese One Piece Suits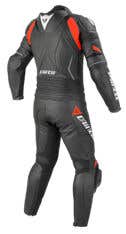 Dainese Two Piece Suits
Dainese Two Piece suits are the ideal choice for riders seeking unfaltering protection and with their larger joining zips, pending circuit permission, can be used on some track days. Dainese Two Piece suits offer comfort, style and protection to all riders.
Dainese Two Piece Suits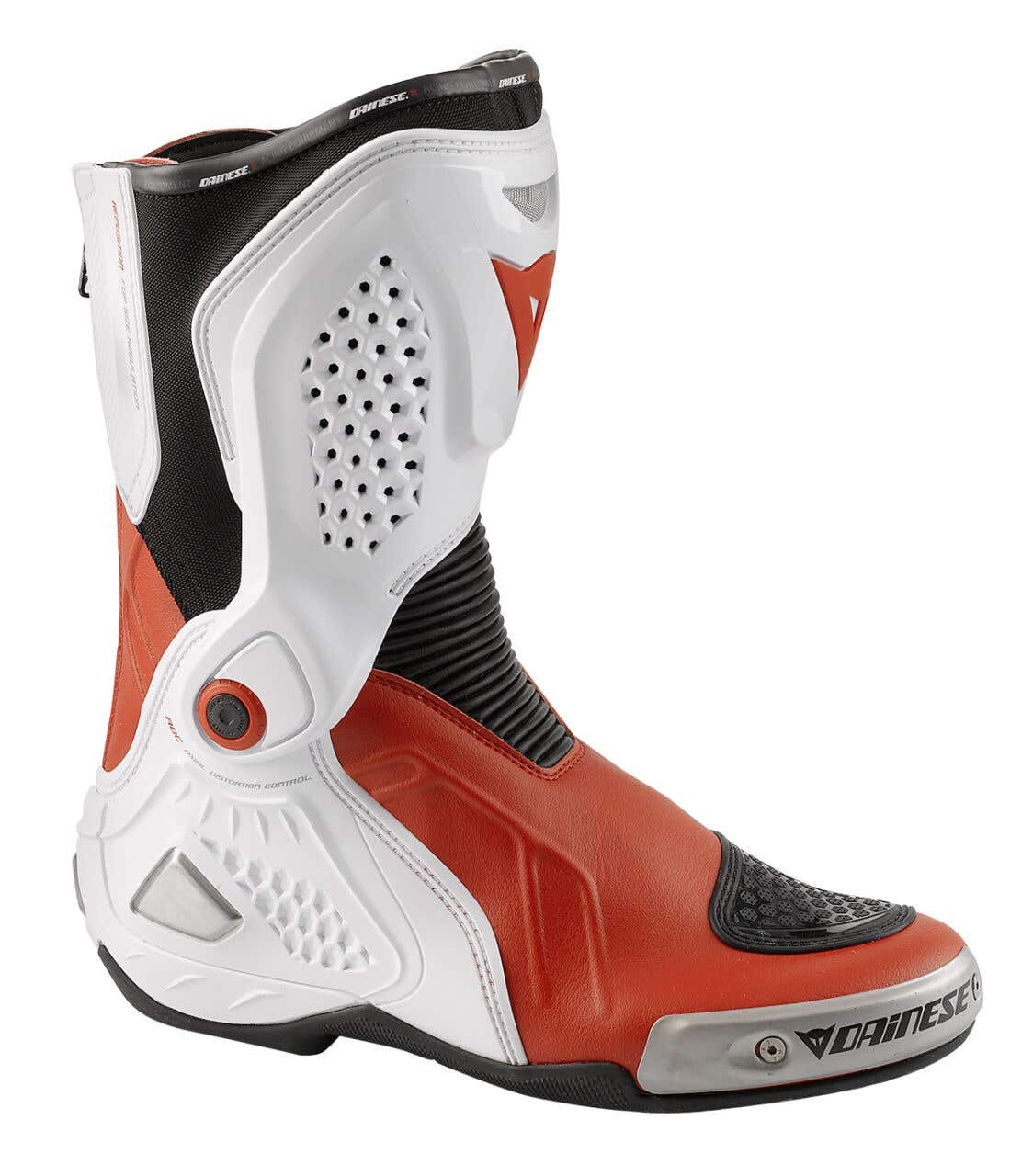 Dainese Boots
Available in sturdy and resilient leather, as well as textile, Dainese boots are a stylish yet safe essential for every rider. Enjoy edgy styles for urban riders, or classic designs that will never go out of style plus water-proof options including Gore-Tex.
Dainese Boots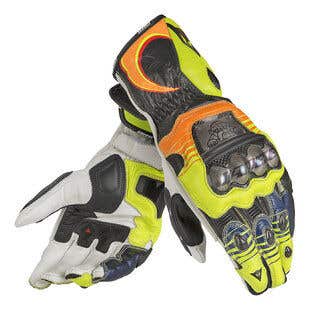 Dainese Gloves
Dainese gloves are suitable for riders of all styles, with every glove providing unique protection for target areas. Protect your hands with quality protection from Dainese.
Dainese Gloves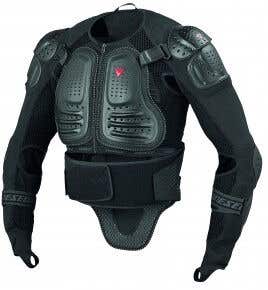 Dainese Body Armour
Dainese strive to provide riders with the ultimate levels of safety, so they can ride with ease knowing they're protected. Dainese body armour is of high standard, and is available in a variety of options such as inserts and wearable pieces.
Dainese Body Armour
Leaders in the motorcycle gear industry
Dainese are probably the most well-known and highly respected brand that focus on offering riders with innovative products that help them to ride with confidence. As well as providing riders with the highest quality motorcycle gear, at Bike Stop we also have a made to measure service for selected Dainese leather products to help every individual find the perfect fit. Why not have some fun and design your new Dainese suit now?
We also offer a tailoring and repair service for pretty much all motorcycle clothing.
If you require further guidance about any of the Dainese products available at Bike Stop, please contact us. We can provide you with all the information you need such as size guides and recommendations.
01438 317038