Swipe to the right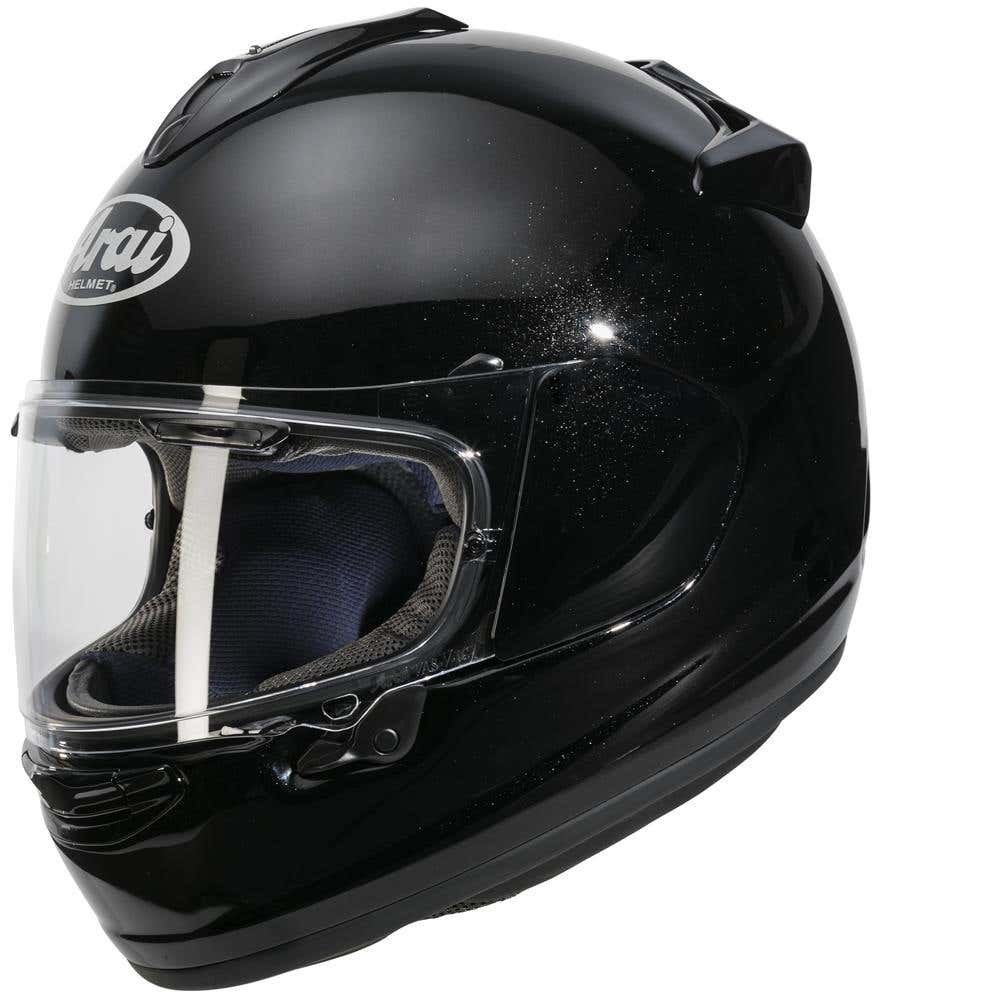 When it comes to motorcycle helmets you're truly spoilt for choice for a range of budgets, however there are some brands that take things incredibly seriously and refuse to compromise on materials, design or pricing – the Japanese company of Arai is one such brand. Shoei is one of the few other brands who comes close to Arai's uncompromising approach to achieving the best helmet safety.
Arai have some very specific concepts that they fully believe make a helmet safer; one of these that's most obvious is the physical solidity and integrity of the helmet shell. You won't find an Arai helmet with a flip-front or internal sun visor, such is their dedication to shell integrity. Other manufacturers believe they can manufacture shells with these features to rival their usual full-face helmets, however there is a certain logic to Arai's ideas.
The way Arai visors fix to the shell with side pods isn't seen anywhere else, and the only way to get a sun visor is to use their external solution which affixes to the top, outer side of the visor. Their helmets retain a unique look as a result compared to more angular helmets you might see from other manufacturers, with what Arai claim to be the best shell integrity possible using their latest composite shell materials (no polycarbonate here).
The key question remains however, are Arai helmets specifically more safe than rival manufacturers? This is a very tricky question, and one with no simple answer. Arai, like Shoei and Schuberth target the upper end of the helmet market and as a result you can expect internal/external design, quality and finish to be accordingly premium. Ultimately, all the helmets we sell pass the same SHARP testing that judge a helmet safe to use on British roads, however Arai deem their helmets as going above and beyond these kind of basic tests and hold themselves to a higher standard.
Premium design, high quality materials and what they profess to be the best crash protection possible are the reasons you'd go for an Arai helmet, along with the fact that people have 'Arai heads' - that is your head fits into Arai helmets nicely (for example, the author's head fits a Shoei helmet better than the average Arai one) may well push you towards one.
It's all well and good that their marketing and R&D budget profess to their helmets being safe, but with the fact F1 racing uses their helmets, along with many motorcycle racers, you have to admit the case for their safety record is a good one.
While Arai refuse to compromise on certain aspects of helmet design that isn't to say you can't get a good range of helmets from them, just don't expect a flip-front!
If you're after one of the best race helmets available look no further than the RX-7V; starting at £589.99 (currently at 10% off with us, along with everything else on our site!) you'll be getting a lightweight, sleek and safe masterpiece of a helmet. Extensive vents, visor locking mechanism and a new composite shell design make this well worth the cash if you're looking for a premium race helmet that's usable on the road.
If you're after a distinctive looking helmet, and one made famous by Charley Boorman and Ewan McGregor, the Tour X (now X4) is a great helmet for on the road and off it. While it comes with a peak and visor it's possible to remove either for greater aerodynamics or for using goggles for offroad, and a nice side effect of the wider aperture for goggles is that visibility out of the helmet is massively improved over a standard road helmet. Sure, it won't be quite as aerodynamic as a true road helmet, but for range of use and striking looks it's very hard to beat. Currently starting at £399.99 with our current sale it's potentially ideal for the adventure bike rider, or for the road rider looking for a different look.
If the RX-7V's price makes your eyes water (fair enough) or you simply want a helmet better suited to the commute or touring then the Chaser-X might be right up your street. Packing in some of the RX-7V's features in a more budget friendly package. You keep the fancy visor locking mechanism, Pinlock and iconic Arai quality and style, but for a price starting at £359.99 - well within the usual premium road helmet budget.
The Bike Stop shop in Stevenage has reopened in accordance with the latest Government guidelines, and we're open for 7 days a week. Our online shop is also still alive and well and taking orders. We're even doing a 10% off promotion – just enter the code 'TOGETHER' at checkout. You can check out our full range on our website with free delivery for any order over £50 on the UK mainland, and delivery possible to almost anywhere else. Not only that but our 'No Quibble' returns policy allows for returns within a 365 day period – see our returns page for more details.