Swipe to the right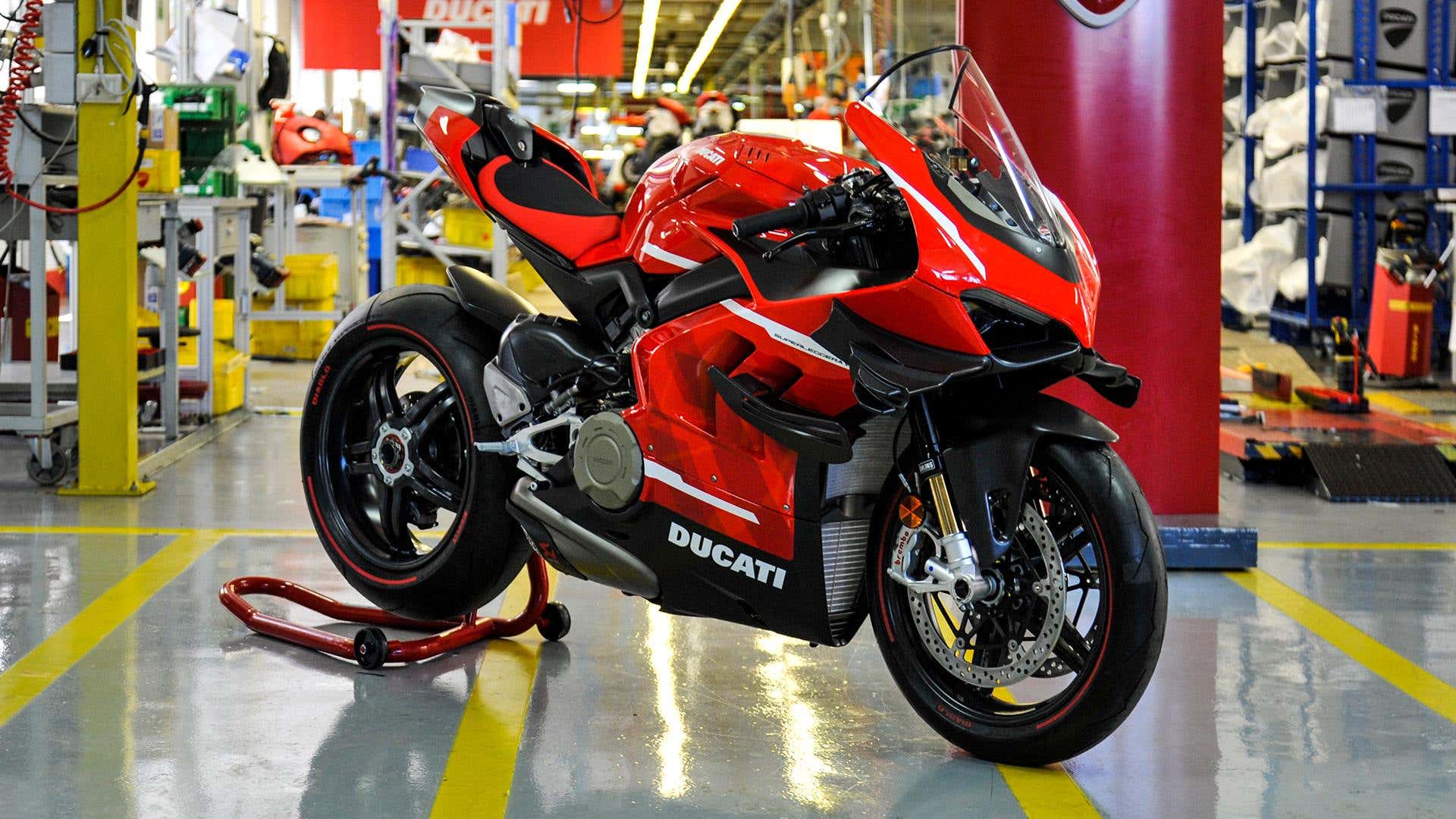 It's getting near that time where we'd be having one of the biggest events on the motorcycling calendar; EICMA 2020. Obviously, that's not happening this year, but it'd be silly to think manufacturers wouldn't be announcing, releasing or developing new motorcycles even with a global pandemic!
Without further ado, we're going to check out our favourite motorcycles from the past year. Next week we'll be checking out what bikes are coming up for 2021 – hopefully we'll have a great selection of new bikes and maybe even some normality returning to life.
First up, one of my firm favourites from EICMA 2019 – the Aprilia RS660. Typically, if you want superbike tech you're limited to 600cc supersports (a dying breed) and 1000cc+ superbikes. This means you're either got a seriously top-end focussed engine or a bike that'll get to three figures before you know it. For some, this is just what they want, but the RS660 offers so much usability while being able to handle like a true supersport. 98bhp from a parallel twin alongside a dry weight of 169kg means this will keep up with almost anything at legal speeds, and won't punt you into hyperspace without you realising it. A full electronics package that is comparable to that of the RSV4 (which the engine is derived from – just cut in half) and this is a weapon that'll suit those who want to spend a little less but want that cornering excellence.
Looking like nothing else is the Ducati Streetfighter V4. Previously appearing in both 1098 and 848 with limited success, despite looking superb, they didn't provide enough wow-factor to steal sales from other supernakeds. The new V4 looks like it could change that – building on the fantastic Panigale V4's fundamentals; a sweet-handling chassis, brutally powerful engine and dripping with electronic gizmos this is a supernaked that Ducati can be proud of. Truly a Streetfighter being basically a superbike minus the fairing.
Kawasaki have entered the supernaked market in a unique fashion, offering up the naked version of the H2 in the form of the Z H2 – for those living under a rock, the H2's uniqueness comes from its inclusion of a supercharger. This gives some serious mid-range shove and an amazing noise. Like the road-going version of the faired version this one is limited, down to 197bhp in this case, however its 137nm of torque is about a third better than most litre superbikes, and delivered in the mid-range rather than at the top end. A wheelie monster if there ever was one!
If you're looking for that step above the Aprilia RS660 then the Ducati Panigale V2 looks to bridge the gap between supersport and superbike nicely. Packing a 955cc L-twin engine, with all the electronic gizmos of its big brother this 155bhp rocket will scratch the itch of the supersport nut with a bit more usable power, not to mention the gorgeous Panigale curvy, yet angular fairing. Arguably the ideal superbike for the road.
Keeping with usable sportsbikes, the Triumph Daytona made a brief reappearance this year, in the form of a Moto2 derived 765 model. Sadly they sold out very quickly (as expected!) but it keeps hopes alive of a return of the glorious triple-cylinder Daytona. Razor-sharp handling, mid-range shove and an amazing howl make this a force to be reckoned with on the road and track.
Triumph revived another of its models this year, the much-loved Rocket 3. Two and a half litres of engine capacity make this the largest production motorcycle in the world, and despite its gigantic rear wheel the bike handles nothing like the gigantic cruiser it looks like. Offering a genuine alternative to the Ducati Diavel which has largely gone uncontested, the Rocket 3 is well worth a look, if only for how mental it looks.
The electric revolution is well and truly upon us with more viable electric bikes around than there ever have been. Testing that 'viability' were Charley Boorman and Ewan McGregor in Long Way Up – you can see they had teething issues, however once they reached areas with good electrical infrastructure they had few real issues. The bikes they were riding were Harley LiveWires – Harley are probably the least likely proponents of electric motorcycles, yet here we are! Real world range of 100-120 miles makes them completely realistic commuting tools, or even touring tools if you plan properly. Truly unique looks, that eerie electric whine, all the tech you could need and the inimitable electric bike torque make this a 'proper' bike. You need deep pockets for sure, but considering how much money some people spend on some bikes and gear it is in the reach of some.
Keeping with that theme, Zero have updated their models building on the core capability of the SR/F (also improved for this year) the SR/S adds a much-needed fairing making their already capable naked a bit more touring-oriented. Offering anywhere from 80-160 miles depending on how hard its ridden, like the LiveWire this is viable commuter. Its best feature? 6kW fast charging – this means a full charge in under two hours from empty, and up to 95% in 1 hour and 20 minutes. Considering how charge times have always been the major issue with electric vehicles this is getting into the realms of stopping for lunch, and actually having a full 'tank' for a ride home – exciting times! It also makes long distance touring possible – over 200 miles in a day is not much fun anyway, so breaking halfway is not uncommon. The SR/F (unfaired) version of the bike has received this same fast-charging tech, and while it has a slightly more limited range on the motorway thanks to worse aerodynamics it retains everything that's been put into the SR/S.
For those who are a bit taller and new to motorcycling, or want a seriously budget adventure bike, the new KTM 390 Adventure has made its appearance. Building on the foundation laid by the 390 Duke this is a friendly bike that could potentially take you everywhere without breaking the bank. A full electronics package seems almost overkill on such a small bike, but that extra safety net will be a boon to new riders and for when riding in bad conditions.
Going completely in the opposite direction sits the Ducati Superleggera V4 – the most powerful road bike Ducati have ever produced. I mean, just look at it, this is a bike for teenagers' bedroom walls if there ever was one, and maybe even for some grown men's garages. The downforce produced by its wings exceed those on the MotoGP bike for this year, and with 221bhp it's just as well. Not only that but a carbon fibre frame mean that this bike only tips the scales at 159kg dry – seriously impressive stuff. There's just one catch…it costs £86,000.
If you need some expert advice then you can have a chat online with us via web chat on our website. The Bike Stop shop in Stevenage is now only open for click and collect orders, and our online shop is also alive and well taking orders for delivery too. You can check out our full range on our website with free delivery for any order over £50 on the UK mainland, and delivery possible to almost anywhere else. Not only that but our 'No Quibble' returns policy allows for returns within a 365 day period – see our returns page for more details.