Swipe to the right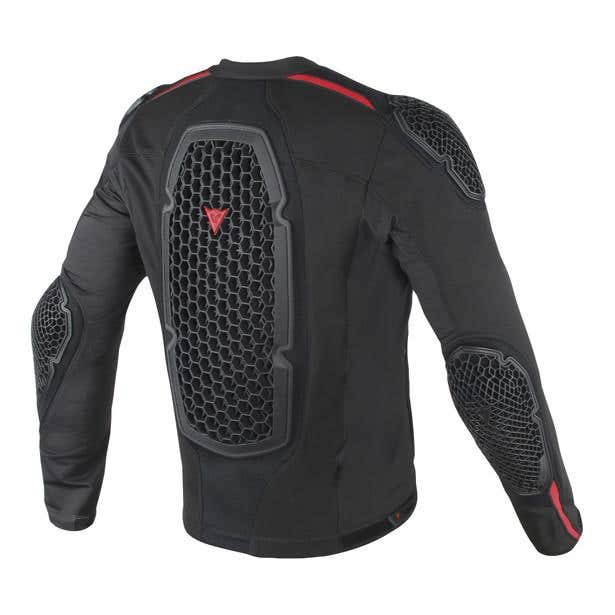 Last week we touched on a good few of the various technologies you can find in motorcycle gear, what they do to keep you safe, warm and dry as well as giving you some kind of guide to what each of the terms are referring to. Dainese has such an extensive number of technologies used in their gear that we're going to take a second look at some of the other ones they have available to you as a motorcyclist.
Crash protection is up first and Dainese is renowned for its high-quality leather gear. They take great care in selecting the correct type and treatment for the job to ensure you have the best protection possible. One such leather is that from kangaroos – you'll most often see this in gloves due to its unique properties. Prized for its thinness and suppleness this extremely tough leather is ideal for the palms and fingers of high-performance gloves. That thinness offers unbeatable feel for the bars and levers while its toughness means that you're not compromising on abrasion protection.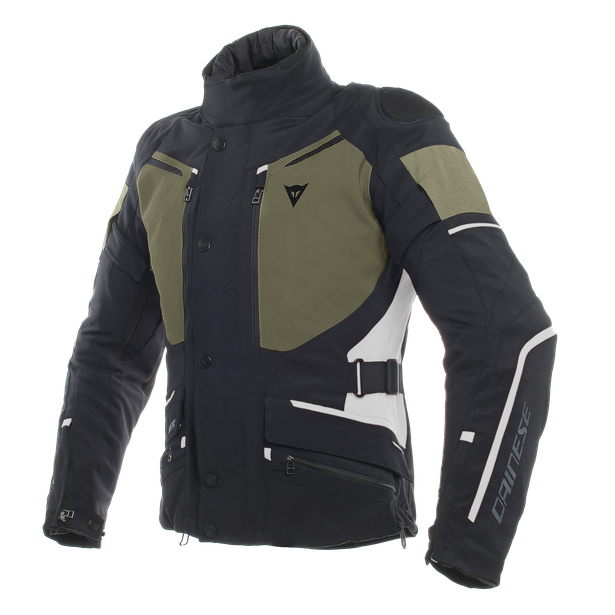 Moving onto textile, or synthetic fabrics, and Dainese has some all of its very own. One such is example is Mugello fabric. Unlike leather where you're relatively limited in what you can achieve, textiles are limited only by material science, and suffice to say things continue to advance nicely. Leather, while extremely good at protecting you from sliding, suffers from being fairly inelastic, so stretch panels have to be used to allow a jacket or pair of trousers to fit comfortably. Mugello fabric has no such boundaries, combining elastomer and micro nylon to create a tear and abrasion resistant fabric that is able to stretch unlike conventional abrasion resistant materials such as leather or Cordura, and as a bonus it's breathable too.
Another example of a textile used in Dainese gear is Trixior, a so-called hyper fabric that manages to achieve a similar aim to Mugello fabric, in that it's abrasion resistant and stretchy, but also breathable. This makes it ideal for use in garments that incorporate waterproof, breathable membranes such as Goretex and D-Dry giving a great fit and minimal compromise to crash protection.
Armacor, and similarly names Armalith, are two other technologies Dainese use for crash protection. Both are again geared towards abrasion protection, with Armacor used on textile clothing and Armalith appearing in jeans. Armacor uses a combination of two tried-and-tested abrasion resistant fibres, Kevlar and Cordura, with 3 Cordura weaves for every 1 Kevlar. This creates an exceptionally resistant fabric that's ideal for being placed on crash impact zones – it also has the advantage of being breathable so can be combined with Goretex or D-Dry, including in laminated forms.
Armalith, while similarly named, is quite different to Armacor. Armalith is an excellent solution to one most bikers will have faced with 'old-school' Kevlar jeans – they generally used to have Kevlar patches sewn inside them. This meant non-impact areas had limited abrasion resistance and it could be a bit uncomfortable. Armalith uses a fibre called UHMWPE weaved directly into denim to create a fabric stronger than normal Kevlar, while protecting your entire garment – ideal!
Dainese also offer a substantial range of impact protection, we covered the low-profile ProShape armour last week with its ideal usage in a wide range of gear, however their range includes a great many more.
Their ProSpeed back protectors are no simple armour pads strapped into the back of a jacket, these incorporate aluminium reinforcement internally to better protect your vulnerable spine from impacts and torsion. The mesh of the aluminium and outer materials means they're breathable while achieving great area coverage – ideal for a track or speedy road ride.
Wave protectors are more traditional armour pads that can be placed in back pockets of jackets – using an external polypropylene shell with a Nidaplast air-filled cell material on the inside this will cushion substantial impacts to your back. It's more convenient than a dedicated back protector, however its coverage is much more limited.
ProArmour sits between the two with extensive coverage possible but with a simpler design than ProSpeed. Expanded nitrile rubber allows for a wide mesh pattern to maximise breathability as well as being extremely light. It's not quite as effective at impact dissipation, but it'll be more comfortable than a ProSpeed protector.
Next week we'll check out Dainese's piéce de resistance, D-Air, as well as checking out some of their boot tech. If you want to see last week's follow this link.
Suffice to say there are a wide range of terms and tech that Dainese offer in their gear to keep riders safe and comfortable. If ever you're in doubt as to what these mean then don't hesitate to contact us, either by visiting us in store in Stevenage, or by remote methods such as the web chat on our website, email or phone (customer.services@bikestop.co.uk / +44 (0)1438 317038)