Swipe to the right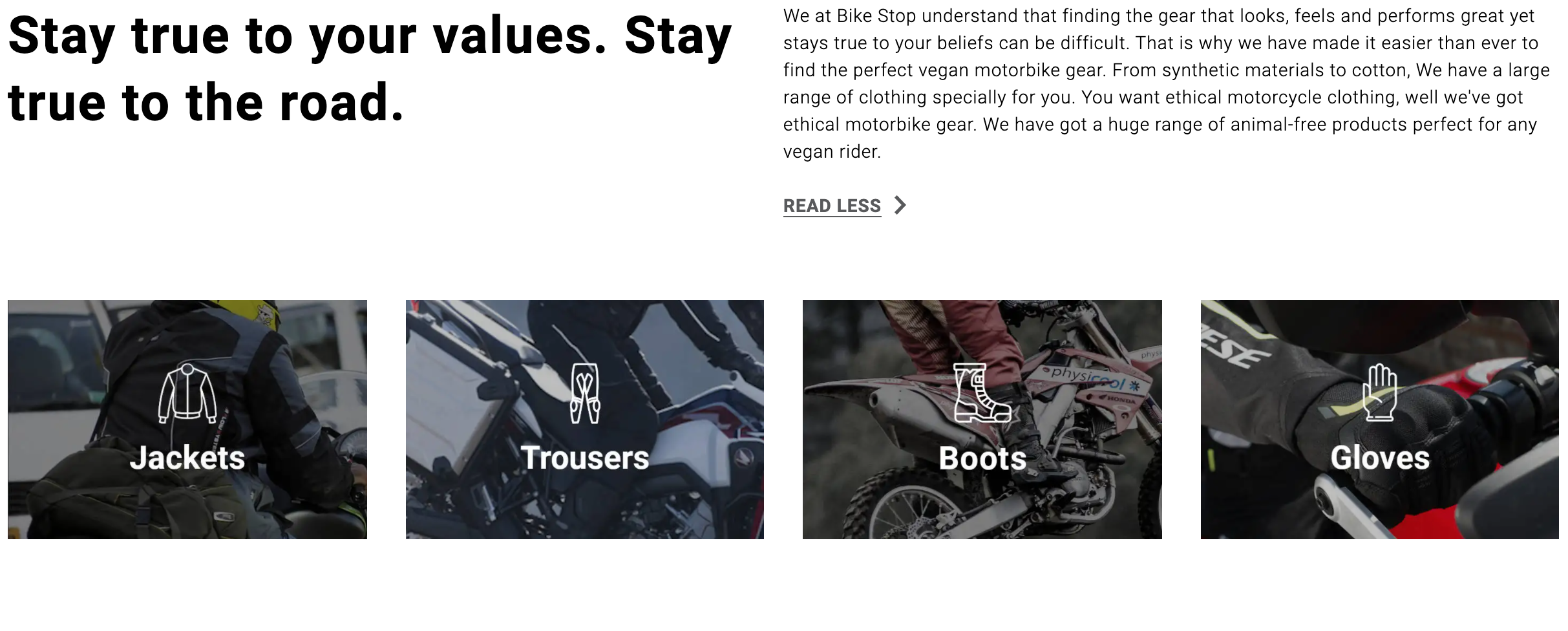 With the inevitable move away from combustion engines in full swing, although maybe lagging behind a bit when it comes to motorcycles, it's not just power sources that are changing. People are buying other things differently too, and one way that things are changing for bikers is in our gear.
Avoiding animal products has become more than just a minority movement, with a multitude of reasons people do it, whether it be animal welfare, ethical concerns or environmental issues, or a combination. Bike gear has relied on animal leathers about as long as motorcycles have been around, with leathers offering excellent resistance to abrasion despite being relatively thin. It's fair to say leather remains an extremely capable choice for crash protection, and racing still uses it extensively, but the vast majority of us aren't racers so there are a great many valid alternatives.
What to look for?
Leather's abrasion protection, while excellent, can be matched by synthetic alternatives, however leathers often struggle when it comes to weather protection. Impact protection is taken care of by armour in both synthetic and leather gear.
If you're looking to avoid animal products the main thing you'll need to look for is leather, although sometimes you might find wool or other derivatives in adhesives. To find out for sure then check with the manufacturer or with us when you buy from us to be doubly sure. Helmets, generally speaking, don't use animal products, with the leather strap material typically being polyurethane. Other gear is where you'll find leather, but also a great many alternatives.
Bike Stop takes pride in catering to all bikers, with a vegan section on our site to make it easy for you to avoid animals in your gear.
Vegan Motorcycles Jackets
Starting with jackets and synthetic, or textile, gear is often one of the best choices for the road rider in the UK – weather protection, solid crash protection, and nowadays you can get some gear that actually looks decent too.
For a jacket that'll do everything a leather jacket will, and more, the Spidi Warrior Evo H2Out is a great contender – packing the same kind of impact protection that you'll find in sports jackets (Force-Tech protectors in the shoulders and elbows), high tenacity nylon and polyamide take care of abrasion protection, while a removable thermal liner and an H2Out membrane will deal with the worst of the weather.
If you're looking for the ultimate in subtlety and flexibility the Knox Urbane Pro is a serious contender, allowing you for a properly ventilated summer ride and the ability to fit under just about any waterproof outer layer – MicroLock armour in the elbows, shoulders and back alongside high tenacity stretch nylon mean that this'll take a few knocks.
Vegan Motorcycle Trousers
A great choice for a vegan pair of motorcycle trousers is a pair of aramid fibre, or Kevlar, jeans. These use exceptionally tough aramid fibres for abrasion protection either underneath the denim or woven into it, armour to equal more conventional gear, and top of the line Rokker versions even pack weather protection.
A great example is the Resurgence Pekev Ultra Lite, which pack a Pekev aramid fibre weave into the denim in a single layer, with D3O armour at the hips and knees along with a slim fit so you look good on and off the bike.
Vegan Motorcycle Boots
You'd think that boots would be a tricky proposition for avoiding, but it's surprisingly not. A great many motorcycle boots use synthetic leathers to shave weight off; the majority of sporty boots use materials such as Lorica. The inimitable Alpinestars SMX-6 V2 is a boot that many try to emulate, with subtle styling and options to choose from. In its basic form it packs no weather protection, but there are vented, Drystar and Goretex versions available to suit your needs. All pack CE certification, with hard armour in key spots and a lateral ankle brace to reduce the risk of twisting. Helpfully, these versions all come in a women's fit too.
Vegan Motorcycle Gloves
Much like boots, you'd expect it to be hard to avoid leather in gloves but there are a great many synthetic options available to you. For some seriously capable gloves without leather then look no further than the Rukka Virium Goretex, using a Goretex Xtrafit membrane that is far slimmer than conventional membranes. The full Goretex lining means complete water and windproofing while remaining breathable, and touchscreen compatible fingertips and a visor wipe boost usability. Rounding off the package is the armour in the knuckle, scaphoid and fingers.
If you need some expert advice, then you can have a chat online with us via web chat on our website. We've finally reopened with our café opening for takeaway at the weekends. If you're a bit far from Stevenage, our online shop is alive and well, and taking orders for delivery. You can also check out our full range on our website with free delivery for any order over £50 on the UK mainland, and delivery possible to almost anywhere else. Not only that but our 'No Quibble' returns policy allows for returns within a 365-day period – see our returns page for more details.